LEARN CULINARY ARTS COURSES FROM THE FINEST CHEFS AT HAMSTECH
Develop your love for culinary arts and learn fundamental techniques through Hamstech's culinary courses. Professional Chefs are always in demand & the culinary field is beaming with opportunities. With the right training, you explore the culinary world and attain theoretical knowledge and the right skill set to excel in the field of your passion.
With Hamstech's certified culinary arts course, you learn over 7 types of cuisines & more than 50 recipes of entrees, snacks & main-course meals. Having a profound 30+ years of experience in the field of creative learning, Hamstech proudly stands amongst the best Institutes in India for creative learning. With our carefully-curated culinary courses, you will master this artistic field. This course is ideal for beginners or if you want to improve your Cooking, plating or food styling abilities.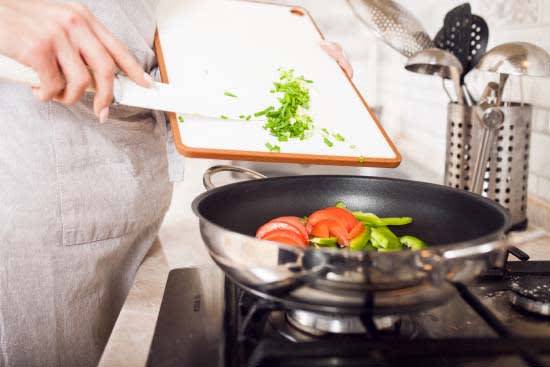 CERTIFICATE COURSE DURATION
COURSE ELIGIBILITY FOR THE CULINARY ARTS COURSE
Class 10th or Equivalent Certificate
CERTIFICATE COURSE AWARDING BODY
CULINARY ARTS COURSE SYLLABUS
START LEARNING WITH PRO CHEFS!
Mamta Chawla
Fashion Design
,
I'm pursuing my Fashion Design course from Hamstech Institute. Honestly, this has been one of the best decisions I've made. The curriculum at Hamstech is well-structured and up-to-date. I really like the teaching methodology as it gives me thorough clarity on the subject.
Alekhya
Fashion Design
,
I chose to do a Fashion Design course from Hamstech. The students are mentored by not only experienced faculty but also industry experts. The interactive sessions, workshops, seminars, etc. serve as an ideal learning platform for students. This has certainly build my confidence to perform well.
Darshika
Interior Design
,
Interior design is a subject that's creative as well as practical. I'm glad I chose to pursue this course from Hamstech Institute. Here the faculties come with years of teaching experience and lend their complete support to students. Studying at Hamstech is not only fun but is also a great learning experience.
Sanihita
Interior Design
,
I'm currently pursuing my Bachelors in Interior Design from Hamstech. At Hamstech, the course equips students with the latest practical and theoretical knowledge. It makes students industry ready and prepares them to face real-life scenarios. Today, I'm more confident and the requirement of the industry.
Haripriya
Jewellery Design
,
The jewellery design course at Hamstech is a blend of theory and practical training. Regular interactions with industry professionals lend a great learning exposure. I have now been able to enhance my designing skills like never before.
Mrudula
Jewellery Design
,
Jewellery designing has always been my passion. Learning about the different types of gems, precious and semi-precious stones and metals has been possible only through Hamstech's Jewellery Design course. Right from jewellery illustration to metalsmithing, all important topics are covered in this course. I feel really privileged to be a part of Hamstech.
Mishank Sharma
Photography
,
The one very exciting thing about learning photography from Hamstech is to get mentored by renowned photographer Mr. Avinash Gowariker. The frequent workshops and seminar on different photography genres has expanded my learning horizon. Today, I'm clearer about which genre is best suited for my skills.
Shyam Sundar Singh
Photography
,
Photography is not only about skill but a blend of creative and technical knowledge. What I enjoy most about studying photography from Hamstech is the well-equipped classrooms, studios, regular workshops and site-visits. All these activities enhance our learning experience. Today, I have an impressive portfolio that speaks a lot about my learning here.
Shatabdi
Fashion Design
,
I'm an Android Developer. My hectic schedule always prevented me from taking up a course that I wished to learn. Now with Hamstech's Fashion Design weekend course I'm able to strike a balance between my work and studies. The weekend course gives me an opportunity to fulfill my desire to learn fashion designing. I'm now able to add this new skill to my profile.
Jayshree
Fashion Design
,
Being a Software Developer requires working for long hours. Squeezing out time during the week to pursue a designing course was not possible. With Hamstech's Fashion Design weekend course, I've now got an opportunity to fulfill my dream of designing. My weekends are more productive as I get to learn the different genres of fashion designing.
Fashion Designing Courses
Hamstech College offers specialised courses in Fashion Design. With degree, diploma & certificate programmes, you can take your pick & kick start your dream career.Our Fashion courses are of various durations, starting from 3-year degree courses to 1-year certificate courses. Weekend Courses & an International Immersion programme is also curated to suit the needs of students from all walks of life.
Q & A

Who can join Hamstech's Culinary Arts Course?
A. Anyone who loves cooking, creating arts with foods and fine cooking hands can join Hamstech College's Culinary Arts Course. But, one must complete the 10+2, and get certified from a recognised board.

What are the career opportunities that I can choose after completing the Culinary Arts Course?
A. After completing Hamstech's Culinary Arts Course, you can start your career as a Professional Chef, Foodpreneur, Owner of a Cloud Kitchen, Restaurant Owner, Manufacturer and Retail Owner of Packaged Food and a lot more.
...More Questions>>

Is this Culinary Arts Course government-recognised?
A. Yes, Hamstech College's Culinary Arts Course is recognised by the government.

What is the Culinary Arts Course offered at Hamstech?
A. Hamstech College offers a 3-month Certificate Course in Culinary Arts. So, why wait? Check out our course and start your journey towards a successful career with one of India's leading Institutes, Hamstech.
...Hide Questions>>