are a number of jewellery designers in the market who prioritize in creating new leanings in jewellery designs. It is a constant effort to make their designs trending. People who look forward for new styles keep in track with popular trends and keep updating the jewellery sections in their wardrobes.
New trends in jewellery designing are for designers who are looking out to make their mark in jewellery designing. There are many designers around who put their heart and soul in making exemplifying kind of jewellery that is woven with a story and resonates the chic of the wearer.
Many a times jewellery blends into the personality of someone in such a way that it becomes a part of them. An elegant jewellery design at times comes with an unsurpassable meaning which denotes feelings like celebration, love, courage, commitment etc. It sometimes comes with so much of drama that it enhances the aura of the wearer with beauty and elegance.
Here are 5 new trends of jewellery designing;
The Metal Club:
Precious metals like Platinum, Gold, Silver etc. always are on the top of the list in jewellery designing. Gold is one precious metal that is malleable in its purest form hence it is mixed with any other metal like copper or silver to make it solid. Though it is mixed with another metal to strengthen it, the dominant part or the outer part is Gold itself.
These are some of the basics taught in a jewellery design education. Here we are talking about jewellery trends that are made by clubbing two or more metals. This kind of clubbing has equal portions of each metal and hence the design also displays all the colours of the metals used.
For example, Gold with Silver, Platinum with Gold, Gold & Silver with Copper etc.
The Crystal Affair:
There must be a question that how crystal comes in the list of latest trends when it is known as a precious stone used in jewellery from ages. The on-trend colour themes used in crystals is the trend of the day. Analogous colour schemes like the light, grey and dark shades of pink or blue, are the colours used in these crystals. These crystals are attached to two or three layered chains. The chains are mostly silver because silver compliments the crystal in the finest way. Gold chains are also used.
Stone Watches-Rose Metal:
A watch is no more an accessory alone. Luxury watches designed using precious metals and stones come in the category of jewellery. Rose metal or Rose Gold is a shade of a metal that has spread into fashion, accessories and even electronic gadgets. There are a lot of brands in watches that have introduced Rose Gold into their designs long back. But today the trend is about stone studded watches made of Rose Gold.  Rose Gold was once an understated elegance of jewellery, but as times changed it gained popularity all over the world. Especially in places like India where Yellow Gold is considered precious of all Rose Gold made its mark. Jewellery designing education in India started teaching the prominence of all the metals in jewellery to fuel opulent jewellery designs.
Rope the Double:
Chains that are made in the shape of rope are called Rope Chains. Rope chains are a widely held jewellery designs that embrace so much of drama. Especially South Indians wear Rope chains made of gold to show their richness and royalty. There are different types of rope chains ranging from thick rope to thin thread. The speciality of today's trending rope chain is that it comes in a round solid form with two thin chains hanging on either sides.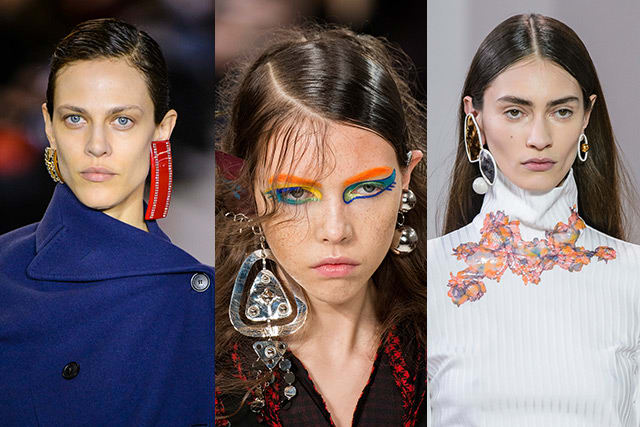 Mix & Match Earrings:
Stop matching and start mixing earrings. Mixing two different pairs of earrings and wearing them is one way. The other way is that a pair of earrings themselves come in two different styles or patterns. The mix and match of earrings became popular in India in recent times. Students from jewellery design courses started widely experimenting with this style.
There are no rules in creating an equilibrium that goes deeper than aesthetics. Though trends change one can hone their expression of style in jewellery designing and create wonders.