Be it a wedding ensemble, party wear or just a casual outfit, jewellery is something that instantly glam up the attire. The use of different textures on jewellery adds a distinct look.
The texture on jewellery can either be achieved by engraving or embossing different patterns and motifs. The use of precious gems and stones on metals also provide an interesting synergy.
Among the many types of precious metals used in jewellery designing, gold is the easiest to work with. Being a soft metal, gold is highly lustrous and looks stunning when textured. The yellow tone of gold stands out, even more, when different textures are applied to it.
Here are few ideas on how you can apply texture on jewellery.
Leather Texture
Leather texture on gold! Sounds interesting, doesn't it? The most trending texture seen on jewellery these days is the leather texture. Apart from gold, this texture is also used on other metals such as silver, copper, aluminium, etc. Finger rings, chokers and bracelets are few examples where leather texture is applied.
In order to achieve the leather texture (fine scales) on jewellery, certain tools and equipments are used. As a student of jewellery design course, working with these jewellery design tools is a good learning experience. Tools with fine tips are used to create fine scales on the surface of metals which gives the desired results.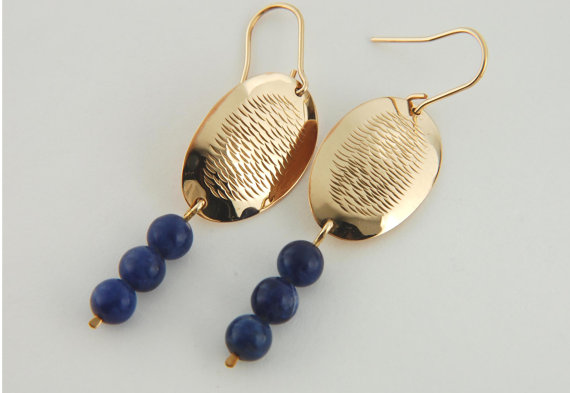 Denim Texture
Denim texture can be easily distinguished by its look and feel. The crisscross pattern of denim adds an element of interest to the ornament. Of late, the denim texture is applied on various types of jewellery giving them a rich and bold look.
Fine artistry skills and the precision of experienced craftsmen are required when it comes to creating fine texture on jewellery. A craftsman meticulously uses the knurling technique on the surface of the metal to produce crisscross lines, hence creating a denim texture.
In a jewellery design institute, students are often taken on site visits where they get to interact with craftsmen. A close view of how jewellery is moulded, filed, textured and embossed gives them a clear picture of the jewellery making process.
Lace Texture
This is where the art of engraving into metal comes in picture. The intricate pattern of lace when seen on a garment looks stunning. Imagine if the same pattern is applied to jewellery, the piece would literally stand out!
For the lace texture, a jewellery designer uses fine tools to chisel out a design on the metal. Equipments such as steel graver, chisel, engraving block and engraving machine are among the most commonly used tools.
Jewellery such as necklaces, earrings and bangles look great in lace texture.
Thermocol Texture
The thermocol texture is probably the easiest to achieve. A blunt tool is used to beat on the surface of the metal to get the shallow craters. Once the dents are created, the metal is then polished to attain a bright lustre.
The thermocol texture is best when done on large surfaces thus increasing the visibility of the pattern. Texture creation is the most enjoyable activity in jewellery design classes as students get a chance to be artistic and creative.
Bark Texture
The woody texture of the bark of a tree would look enthralling when recreated on metal. The bark texture is created using etching tools and this requires efficient hand techniques. The intricate texture creates an interesting shine and lustre on the surface.
The bark texture is such that it looks beautiful on the smallest jewellery piece such as a ring to large-sized jewellery like a neckpiece.
Above were just a few examples of textured jewellery. Apart from these there are varieties including creased fabric texture, rutile texture and glossy basalt texture.
Being a creative field that it is, jewellery designing today has an immense scope with the introduction of new designs, patterns and styles. With the right jewellery design education, you too can create stunning and unique textures.