Piercing the ear is one of the oldest forms of body beautification. The earring is a piece of ornament adorned by both men and women alike. It has been in use right from the times of the Minoan Civilization (2000-1600 BCE). From simple bone studs to fancy hooped rings, earrings have evolved a lot! Kings, queens and commoners wore fancy ear studs that reflected their status. Earrings of various shapes and sizes were crafted with metal pieces embossed with forms of animals, flowers and goddesses.
It was during the Mughal era that ear cuffs and ear jackets gained immense popularity. The use of expensive metals such as gold, silver and bronze engraved with precious gemstones added to their rich and sophisticated look.
In jewellery designing, a study of the human ear anatomy is important. This knowledge helps students to gauge the right placement and style of piecing the ring. Among the pierced ornaments, ear cuffs and ear jackets have got back in trend lately.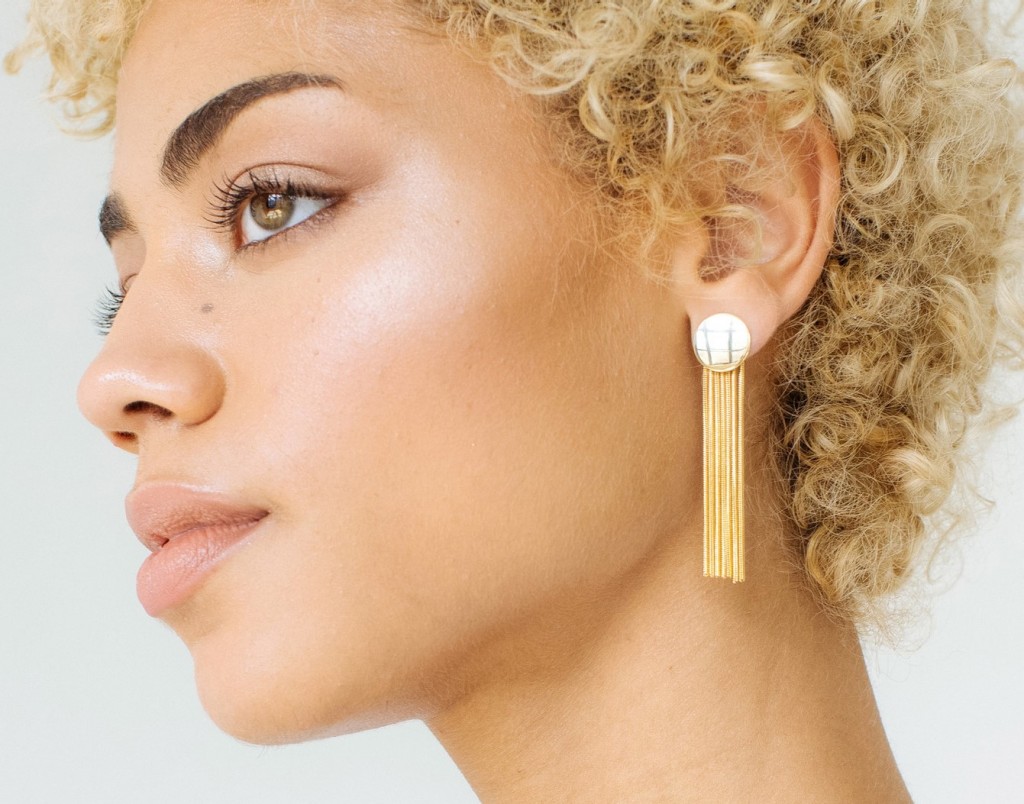 Ear Jackets
The ear jacket is an ornament that's attached to a post behind the earlobe. The ear jacket technically hangs down, taking the shape of the ear curve. So basically the main attraction of the ear jacket is the piece that hangs from the earlobe. It comes in different shapes, patterns and designs.
Designing ear jackets require precision and can be done effortlessly by an experienced craftsman. In most jewellery design classes, students are trained on how to make such handcrafted jewellery using simple techniques.
Ear jackets look best in traditional designs and can be worn with traditional, western and fusion outfits. In order for the ear jacket to get noticed, it's best to pull up your hair into a bun or a ponytail. Some of the most popular ear jackets are spears, sunrays, box studded with diamonds and geometric patterns.
Ear Cuffs
As the name suggests, ear cuffs are designed in a way that it clips on the side cartilage of the ear. Ear cuffs used to secure an important place in the jewellery box of queens and other women of high status.
Ear cuffs date back to 2000 BC when they were known as "Kaffa". The actual Kaffa was excavated from the burial sites at the British Isles. Unlike other earrings that would clip at the earlobe, Kaffa was designed to attach to the pinna (the outside edge of the ear). The best part about Kaffa was that no piercing was needed and this resulted in less pressure on the ear. Taking this as an advantage, huge and elaborate pieces were crafted and worn.
Today, among many forms of earrings, ear cuffs have become popular with many celebrities who sport them on various events and occasions. Some celebrities wear it on just one ear, making it a style statement.
The ear cuff stands out best when placed on the helix on the ear. Right from delicate looking leaves to a bold crystal, ear cuffs are styled in a variety of designs. The ear cuff literally compliments feminine beauty.
The importance of learning ancient jewellery holds great relevance especially in a creative subject such as jewellery design. Students can take inspiration from ancient jewellery and create their own unique designs. In a jewellery design institute like Hamstech, studying about ancient jewellery is part of a thoroughly enjoyable syllabus for students.
Some of the most popular ear cuff designs are the lion motif engraved on metal, horses and peacocks. With the resurgence of ear cuffs, many celebrities and artists are finding a great way of flaunting a style statement.
Keeping these trends in mind, you too can design amazing pieces of jewellery. The key here is to explore and experiment with new designs taking cues from ancient jewellery.