There are many different kinds of clothing out there for people to choose from. We see many new designs gracing the fashion design industry every season. Some might become an instant hit with the public while other designs might go unnoticed. Just like the seasons, even the fashion sense of people keeps changing from time to time. It gets updated with the trends in the fashion industry and also new fashion designer collections. In spite of so many new changes happening all the time in the fashion industry, there are some classics that never go out of style. These could be garment styles, colour combinations, fabrics or certain kinds of embellishments. Now we are going to be talking specifically about embroidery.
Quick Embroidery Tips for Beginners
Have needles in different sizes and make sure to use the right one for your embroidery or design.
Keep a thimble handy, as it will give you a better grip of your needles while hand embroidery.
Use wooden frames instead of plastic ones, as they last longer and keep the fabric taut for clean embroidery.
Play around with your designs and carefully transfer them onto your fabric using a tracing sheet to avoid any mess.
What is Embroidery?
Embroidery is an integral part of fashion designing and garment making. Embroidery is the technique of creating beautiful designs with thread work on different kinds of fabrics. Naturally, embroidering is to decorate a fabric with needle and thread that includes vibrant colour combinations, sewing embellishments, a variety of stitches and many different types of threads. Embroidery was considered to be one of the most favourite pastimes for women all over the world. Now it's way more than just that. Embroidered garments have a unique quality about them that impresses even the pickiest of people. This has been used and incorporated into garments by fashion designers from all over the world, since the beginning of garment making.
All Fashion design courses have embroidery as a part of their program. Hamstech offers some great fashion design course options for you to choose from. You'll be learning about different kinds of stitches, famous and traditional embroidery techniques, different types of embroidery and its history. We thought we would introduce you to some of the most commonly used stitches in embroidery, to get you started!
Running Stitch
Running Stitch is probably one of the first stitches that you'll learn in embroidery. It is used in many different kinds of embroidery and also for fabric finishes. The stitch length can vary depending on your preference. The basic running stitch looks like a straight line. There are many other stitches that you can build over a running stitch. So, if you get started with this stitch, you could also do basic seams. All fashion designers know this stitch.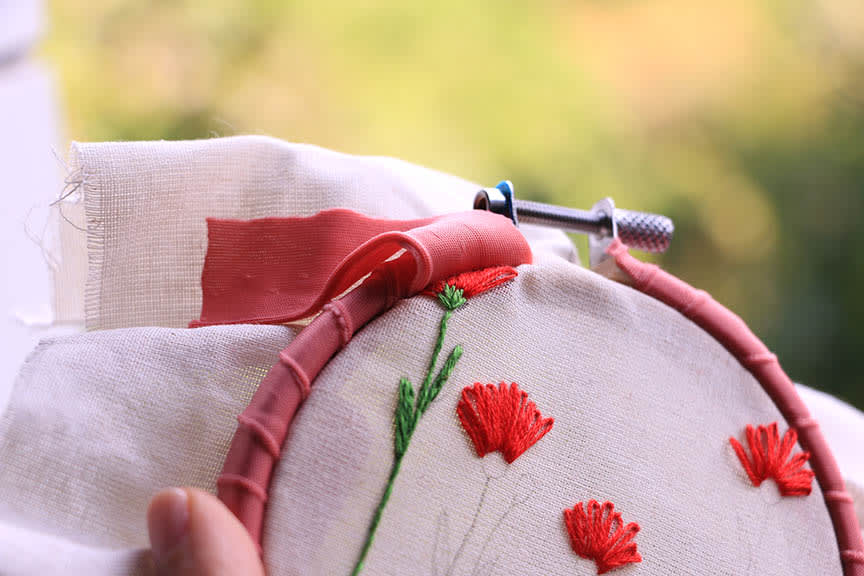 Back Stitch
Back stitch is one more stitch that you will be using a lot during your embroidery sessions. This stitch is pretty neat and close, that looks like a dotted line. This is also a pretty simple stitch that you can use to create design outlines and sealing seams together. You start by pulling the needle and thread out from behind. Once the needle goes back, bring it back up through the end of the last stitch. This will complete one stitch. Back stitch works great for making straight lines that look solid once done. You can sketch your ideas in a fashion design drawing to make it clear.
Chain Stitch
Chain stitch(1) is also used for design outlines and borders as such. The stitch looks like a conjoined metal chain once finished. This stitch might seem difficult for beginners but it's really not! Learning a chain stitch will help you in filling different kinds of design details, like flower petals & fish scales to name some. Start with inserting your needle with the thread from down through the fabric, now take it back to the point where you started the stitch. Now form a loop around the needle with your thread and seal that stitch by pulling your needle through the fabric. To continue this stitch further, pull your thread through the fabric where the last stitch ended. Continue the process for however long you want.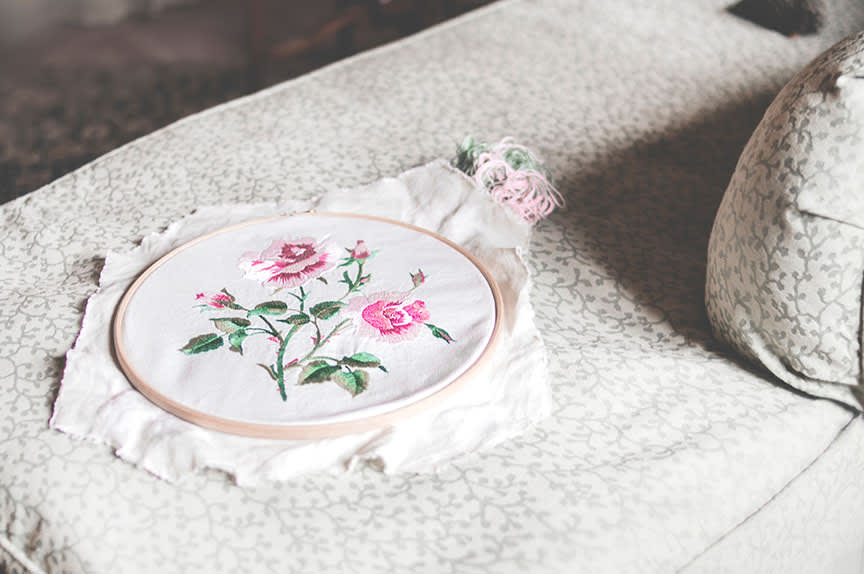 Satin Stitch
Satin stitch is used to fill up a design with glossy thread, which looks smooth. For wholesome designs that do not have any detailing, satin stitch works perfectly. To get started with this, you first need to outline your design for this satin stitch. For example: A dot, heart shape etc. Start by pulling your thread through the fabric on a starting point of your design and bring it to the back by inserting on the point on the other side of the outline. Repeat this from the back and front to achieve desired results. Satin stitch makes a design look more lively and embossed. Many fashion designers use this stitch in their embroidery motifs.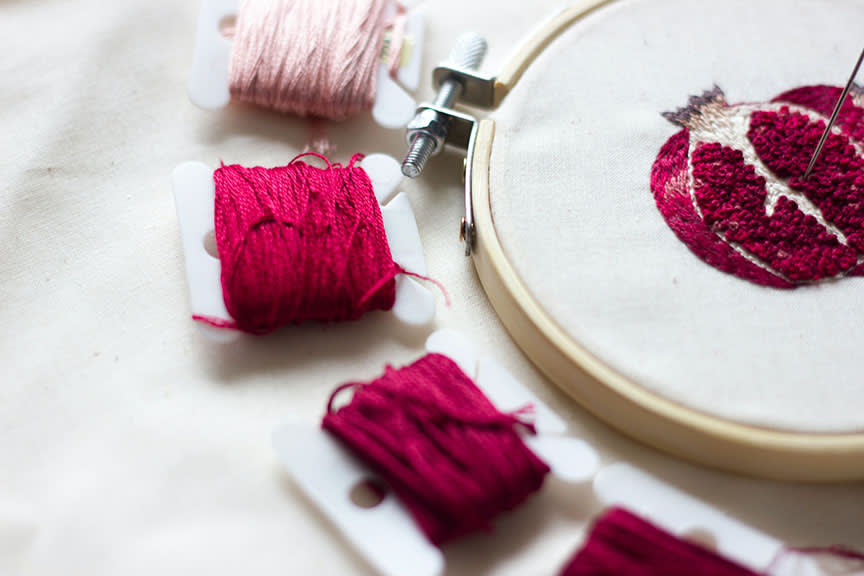 French Knot
French Knots literally look like knots once done. These are used to make many design elements like flower buds, dot designs, pollen and similar ones. To start with, pass your needle through and bring it on the other side. Now wrap your thread around the needle a few times and bring it back, then pass it through the fabric to end it. French knots are pretty popular in fashion design.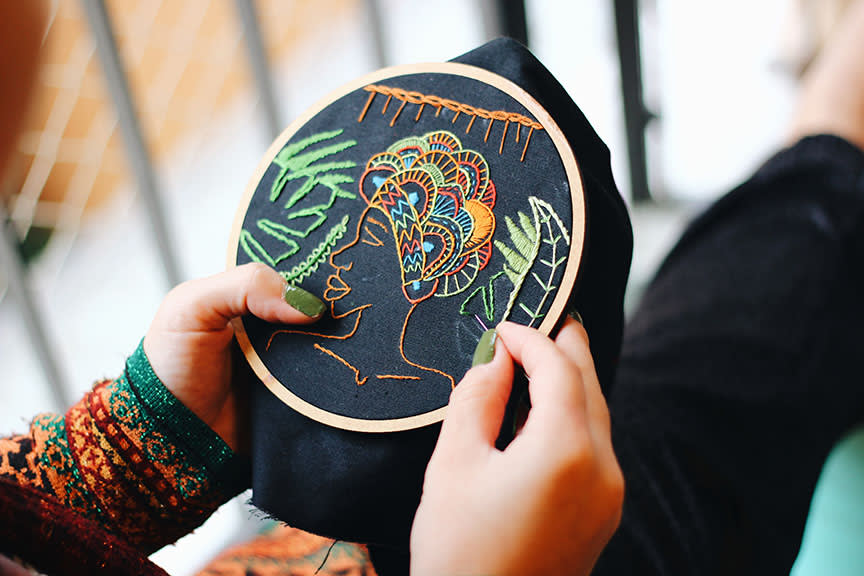 Other than these, there are many more important stitches in embroidery that you'll be using as a fashion designer. All kinds of stitches are taught as a part of fashion designing courses. So signing up for a fashion design course is the best place for you to get started. Hamstech offers really good fashion designing course options to choose from! So why wait? Enrol now & start learning.