Picking a career path might be quite confusing. There are so many options and every field has a lot of opportunities for people to explore and thrive. There are certain fields that the people in general like to believe have more scope than others. For careers that concern arts and creative thinking, the work can get quite exhausting sometimes and there might be days when you can't tap into your inner creative self. So many people end up choosing conventional careers to ensure a safer future. If you are one of those people who loves a creative environment and would thrive in it, then you should look for options that will cater to your needs, like a baking course at Hamstech.
Baking is one such profession that might not be considered conventional. But it's an art and you need to have a passion for it! Surely everybody who wants to try something new can also opt for Baking courses but after a point, they may not be able to keep up. If you love the times when you get to bake and play around with ingredients and create new & exciting recipes, then Baking as a full time career would be a wonderful option for you! There is so much that you can do with Baking, to start with, you can enrol yourself in a Baking course like the one Hamstech offers.
Baking course offered by Hamstech will provide you with 3 months of training, interactive classes, baking sessions and knowledge to get you started. This program is perfect for anyone who wants to try their hand in Baking and see how much they enjoy it! Hamstech has been in the creative industry for over 28 years now and has some of the best baking courses for beginners.
There are multiple career options for Bakers and we are here to give you some insights into what these options are like for them. In a creative career like Baking, there are a lot of things that you will learn and experience through the course of your career. All the practice and experience will help you in realising your specialization and working towards achieving it!
Also Read: EASY TO LEARN BAKING COURSES FOR BEGINNERS
Home Bakers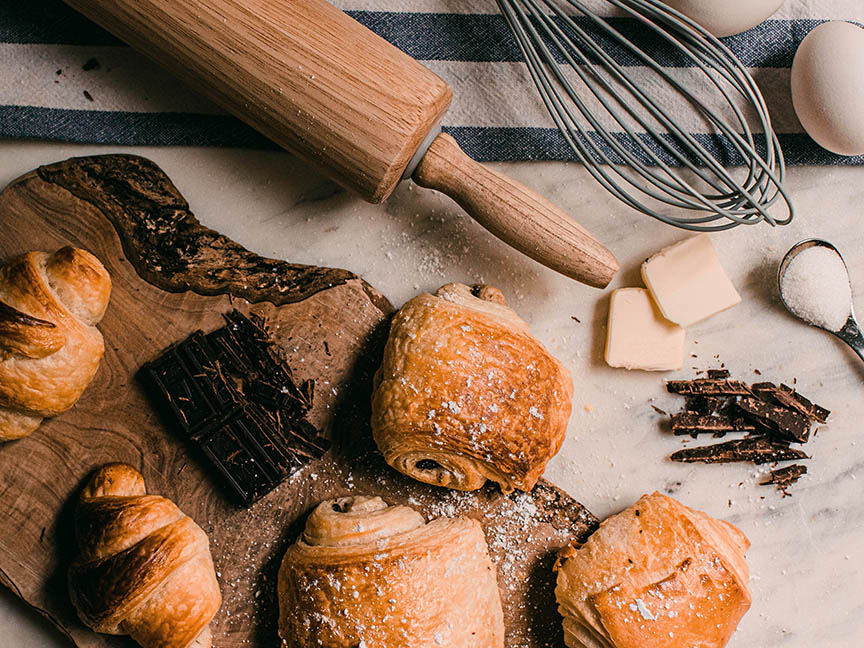 Home Bakers can also be called as entrepreneurs. What started out as a hobby could change into a full time career. If you are skeptical about opening your own bake shop just yet, then you can start as a home baker and operate out of a cloud kitchen. As a home baker, you can avoid the extra expenses of renting a new place, hiring staff, paying bills and funding that place to keep it up and running. When you start Home baking and taking custom orders, your customer base will grow through word-of-mouth marketing. As the orders are custom made, you can offer a wide range of options without limiting yourself as there won't be a need to maintain stock.  This is an excellent option to begin with and know the kind of baked goods that people would like to have you make! It's also a way of discovering your niche in Baking.
Also Read: MUST HAVE EQUIPMENT FOR YOUR SUMMER BAKING CLASSES
Cake Stylists
Cake Stylists or decorators are artists who work on simple cakes and turn them into something beautiful and unique! They are bakers who specialise in cake decoration, which includes making edible designs that look incredible, while also tasting delicious. We need cakes for different kinds of occasions like weddings, birthday parties, farewell parties, baby showers, bridal showers, engagement parties and what not! With the many occasions, the customer demands and customization needs also increase. Themed cakes are quite popular now and it's all on Cake Stylists to make those beautiful sugar arts with frosting, cream and other edible elements that will add on to the design. This career is perfect for someone who is artistic and loves a challenge!
Dessert Specialist
We all know by now that Baking is not just about the desserts, but you can make it all about them! When you are done with your baking courses, you'll have some idea about what you would like to specialise in. As you start exploring the field of Baking, if desserts are what you love making then that's what you should be working on exclusively. Dessert specialists excel in making some of the finest and most exotic desserts. You could work around different ingredients, try out new flavour combinations and invent innovative desserts that will leave your clients asking for more. There are a lot of exclusive dessert places that look for Dessert Specialists to run their kitchen or you could have a dessert bar of your own!
Artisan Bread Specialist
This is also a career path for bakers once they discover their niche in Baking! Once you know what you love to do or the kind of Baking you enjoy, it becomes easier to identify what you can specialise in. Artisan bread is handmade bread that doesn't involve the usage of any extra unnecessary ingredients especially chemical additives. These are crafted by hand with basic ingredients like flour, yeast, salt or so and are consumed immediately. As they are preservative free, these tend to last for a lesser time and are meant to be consumed immediately or within a few hours of baking. Artisan bread also takes longer hours of fermentation which in turn shortens its shelf life. As an Artisan Bread Specialist, you will be working to craft different kinds of breads with varied flavours. As people are turning towards more organic produce, this can be a good career option for Bakers.
These are only some of the options that we have mentioned here, there are a lot more possibilities in the field of baking. Realise your passion for baking by signing up for baking classes at Hamstech.