Do jewellery designs of brands like Caratlane, Tanishq, TBZ, etc. keep you mesmerized with their amazing designs? Do you too want to master the art of making such spectacular ornaments and create your brand in the Indian jewellery industry? If yes, here's Hamstech's jewellery designing courses in Hyderabad that give you education inspired by top jewellery designers in India and help you set your foot confidently in the sparkling industry of ornaments.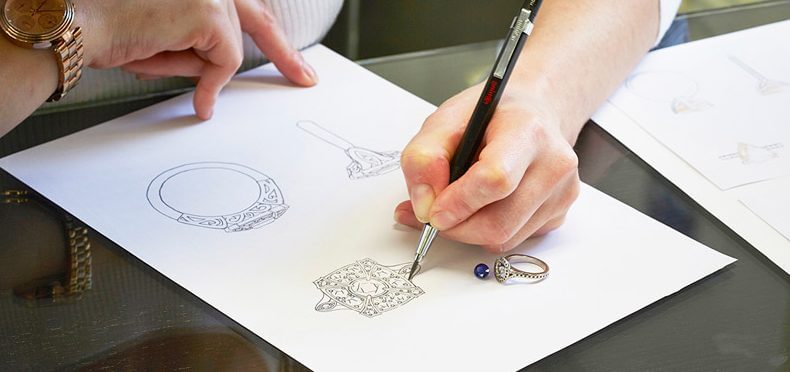 With a 26-year-old legacy in fashion education and over 25000 successful alumni, Hamstech, a creative college in Hyderabad encourages young and dynamic students to make their DIY jewellery designing hobby, now a flourishing profession with our jewellery design course. We believe that in a city like Hyderabad, which is often termed as the City of Pearls, jewellery designing career is never challenging! However, before you take that leap of confidence in becoming a jewellery designer, we would like you to learn how jewellery designing originated in Hyderabad and has reached this state of eternal flourishment.
Hyderabad holds a historic eminence in Jewellery Designing
Since centuries, Hyderabad has been a popular name when it comes to jewellery. The Asaf Jahi Nizams of Hyderabad were also famed for their legendary jewels. The last Nizam, Mir Osman Ali Khan (once called the richest man in the world by the TIME magazine), had an unbelievable collection of jewels. Today, the jewels of the Nizams of Hyderabad are among the largest and by far the most expensive jewel collections of India. This shows that from the reign of Nizams to this date, Hyderabad has firmly held its beauty in designing jewellery from various rudiments and in the most intricate forms. In our city, jewellery making is regarded a prominent art and an exclusive talent. This is why many schools and colleges are adding jewellery designing courses to their list of subjects and are encouraging students to promote this inheritance with their creative skills.
Scope of learning jewellery designing in Hyderabad
In the Hyderabad city, almost every lady has a love for ornaments. Be it pearls, emeralds, gemstones or any other kind of jewel, there's never a no to shopping jewellery. Also, tourists from worldwide who visit Hyderabad, often don't leave the city without buying an exclusive piece of ornament for themselves & their loved one. With this all-time fascination for ornaments and an evergreen market of jewellery making in Hyderabad, the opportunities for a jewellery designer are immense and always growing. One who has pursued a course in jewellery and obtained a jewellery designer certificate has directions that are limitless. However, the prominent roles you can play as a jewellery designer are:
Own your production house of designing & making jewellery
Work as an advisor or consultant for top jewellery brands
Have your own handcrafted jewellery store
Become a specialist in gemology
Work for jobs related to gemstones like gem grinding, gemstone appraising, gem retailing, etc.
Serve as a jewellery design class faculty
Become a certified jewellery designer in Hyderabad with Hamstech!
Hamstech's certified jewellery courses in Hyderabad are beyond just education. By enrolling in this course, you get to learn various concepts of jewellery designing –  jewellery illustrations, gemology, principles and elements of jewellery designs, basic metalsmithing, costume jewellery, computer aided designing and much more. Along with a certificate in jewellery design, Hamstech also gives give you an exposure to the industry with exclusive workshops, jewellery shows and exhibitions.