Have you always dreamed of becoming a professional graphic designer? The demand for graphic designers across industries is huge. If you are a beginner, do not expect to master graphic designing in a month or so. You need a lot of patience to become an outstanding graphic designer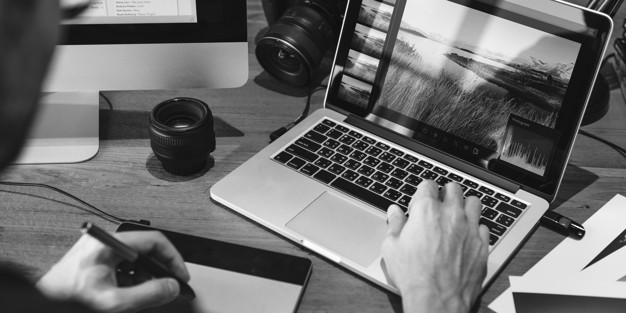 It is a long journey to become a professional. Stay humble in your expectations and reach one goal at a time. But are you wondering how to get started? Here we look at four quick-start tips for beginning a new career in graphic design.
#1 Start with the basics
Have you come across a design that screams creativity and uniqueness? If you want to make an equally outstanding design, you can gather inspiration from image-based websites like Pinterest. But make sure you are not replicating the existing designs. Graphic designing is all about creating your own style.
To start off, it can be difficult to know which software to use, as there are too many options available. Adobe software is what many designers opt for. If you want to start using Adobe, the ideal thing is to select the trio – Adobe InDesign, Adobe Photoshop or Adobe Illustrator. These tools should be enough to get you started as a graphic designer.
#2 Be Good With Typography
The text is one of the most important aspects of graphic designing. A graphic designer should not make one aspect complicated for the sake of another. If you compromise with text for visual appeal, you might end up compromising with the final output.
The ultimate goal of a graphic designer is to make a design look easy on the eyes of a viewer. However, do not limit your designs to a single font. Experiment with fonts and find the perfect style for the project you are working on. Keep exploring the options available instead of sticking to the default fonts.
#3 Learn From The Feedback
Do you love your own design? What is stopping you from showing it to the world? Do you lack confidence? To resolve this issue, you can approach a professional graphic designer for an honest opinion. The whole point is, be open to criticisms. Embrace it and use those remarks to your advantage. The ultimate goal is to create projects that are attractive to the targeted viewers. So, never say no to a feedback!
You don't have to be a professional designer to be interested in designing. A creative mind with zeal to learn is all you need. If you are one of those designers who is looking forward to have a successful career in graphic designing, enroll with Hamstech College of Creative Education.
The 1-year Graphic Designing course at Hamstech is mentored by ace celebrity graphic designer and guided by experienced faculty. The course gives a hand-on experience with the latest tools available for the students and trains them accordingly. Join the course today and become a professional graphic designer.