The art of dyeing and printing has been part of Indian culture for centuries. Earlier, colours were derived from plants and animals which were the only source of natural colour. Application of these colours was also used to give texture, increase the durability of the fabric and add an element of interest.
Dyeing and printing are one of the most popular and unique forms of fabric colouring and decoration. Every state in India is known for its distinct dyeing and printing style. Though this form of art is passed through generations, many fashion design institutes have included this in their curriculum under the subject of textile design.
Here, let us take a look at the different dyeing and printing techniques practised in India.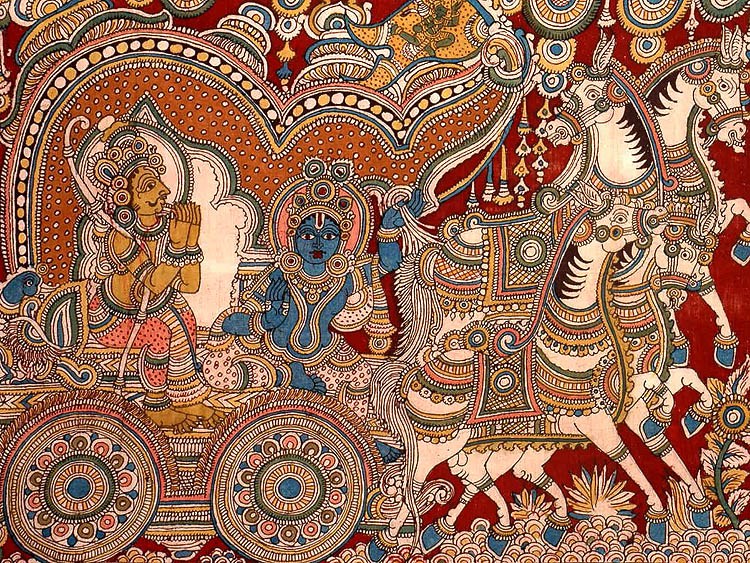 Kalamkari
Kalamkari originates from the state of Andhra Pradesh. The most significant feature of this dyeing and printing technique is that craftsmen use only natural colours extracted from fruits and plants to dye the cloth.
Earlier, stories and poems from Hindu mythology were presented on fabrics with paintings on them. In Kalamkari, the cloth is first stiffened and dried and then printing is carried out in different phases. Here, the use of wax helps to keep some areas free of colour while dyeing and the rest are done by hand. A bamboo stick is used for fine detailing. Ramayana and Mahabharata form the main sources of inspiration.
Bagh
Bagh originated from the Bagh district of Madhya Pradesh. It is a technique of block printing with the use of natural colours. Also, the chemical properties of the Bagh River are used to get unique shades.
The Khatri population who migrated from Sindh were the first to introduce this art of printing. The Bagh art of dyeing and printing takes its inspiration from popular monuments such as the Taj Mahal and from nature. Geometric designs in vibrant colours are often seen in the main motif.
Bagh is done on a variety of fabrics such as cotton, chiffon, silk, etc. Before the printing process, the starch from the fabric is removed by boiling and drying.
Students from a fashion design course have better knowledge of this process as textile designing involves many practical sessions of dyeing and printing.
Ajrak
Ajrak is a type of block printing from the ancient Mohenjo-Daro civilization. This art of block printing is applied on shawls using stamps. Wooden blocks engraved in geometric shapes and patterns are dipped in natural dyes and used in this process.
In fashion design classes, students are also taught motif designing which is later carved on to wooden blocks for printing.
Bandhani
Bandhani is a tie and dye technique that can be traced back to the Indus Valley Civilization. This art of dyeing originated in Gujarat. In this process, the fabric is tied into tiny knots and then dyed. Mostly the background colours chosen are bright such as green, red, pink, yellow, etc.
Of late, many fashion design schools have started encouraging Bandhani technique as a way to revive the age old tradition of dyeing and printing.
Batik
Batik is a very interesting tie and dye technique using bee wax. This technique first originated in Egypt and since then has been practiced in many countries. In this process, wax is applied on the motif and then it is soaked in a dye solution. The wax acts as a resistant and thus gives a unique texture.
Sanganeri
Sanganeri is a unique technique of block printing that originated in Rajasthan. This technique of printing is commonly seen on apparels and other objects of home décor.
In this popular hand printing technique, the fabric is first laid on a flat surface and then blocks are used for printing. Printing is done on specific markings to keep the alignment in place. Pattern inspiration is taken from flowers, leaves, buds and mangoes.
Apart from the above, Dabu, Gold and Silver Dust, Leheriya, etc. are few other techniques used for dyeing and printing. Learn and apply these techniques to add a unique touch to clothes, apparels and more.